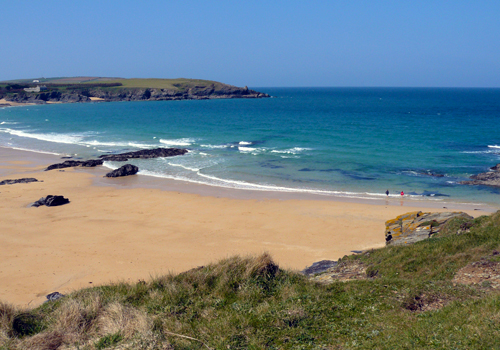 The Seven Bays
Harlyn Bay
A safe sandy beach Harlyn Bay (pictured above) is half a mile wide and is perfect for the family to enjoy a day out on the beach.
There are lifeguards throughout the holiday season and safe bathing areas are well marked out. Harlyn is one of the most popular of the Seven Bays and has parking for a large number of vehicles.
Trevone
This pretty little rocky cove is just over a mile from The Farmers Arms and is ideal for families with young children. A little tide pool forms during the inbound tide and creates a delightful shallow bathing area.
Walk across the rocks at low tide and you will discover a host of little rock pools, perfect for children to discover a little about Cornwall's marine life.
Mother Ivey's
This is another pretty sandy beach and is popular with holiday makers. There are no parking facilities at Mother Ivey's and the best way to get there is to walk to it from Harlyn Bay.
It is however well worth the 2o minutes walk to visit the beach, but make sure you take your own refreshments with you,  as there are no shops or bars close by.
Booby's Bay
Another small bay that is popular with surfers and sun seekers, its remoteness often means that it is less crowded.
Access can be achieved by walking the Coastal Path from either Treyarnon Bay or from Constantine Bay, though limited parking at Constantine will generally mean that Treyarnon is the better option.
Constantine Bay
A wide sandy beach giving way to pebbles and sand dunes, Constantine is popular with surfers due to its tall Atlantic breakers.
Limited parking of little more than a dozen or so spaces, means that most people park at nearby Treyarnon Bay and walk the Coastal Path, a walk of about eight to ten minutes.